Turbonomic Supports AWS and Azure Now!
Turbonomic 5.9 Extends Cloud Management
Just a few weeks back, Turbonomic announced their newest advancements that support hybrid cloud capabilities for Amazon Web Services (AWS) as well as Microsoft Azure in their product, Turbonomic 5.9. This news further solidifies Turbonomic's goals to enable customers to control any workload, on any type of infrastructure, anywhere in the world, at anytime. Changing their name from VMTurbo to Turbonomic has really allowed this company and software to really be more than just a VM monitoring tool as I feel it began with a few years back.
New Features
Turbonomic 5.9 now includes the following cloud management feature sets:
Visibility of all workloads, whether on-premises or in AWS and Azure environments
Acceleration of public cloud migration
Lowering of public cloud bills on average by 30 percent
Control of workloads to assure performance and deliver service levels
Enforcement of compliance policies across a hybrid cloud
Turbonomic Hybrid Cloud Management Platform for On-Premises & Cloud
Turbonomic is well known for their self-managing software these days. They continuously keep a watchful eye on workloads which then matches those workloads to the proper compute, storage, and network resources in your public cloud, private cloud, and even your on-premises environments. All of this is done in real time to assure the best performance, compliance and even lowering costs. This new set of features in version 5.9 speak to this methodology even more as customers look to get better control or even realize the full potential of their hybrid cloud or on-prem workloads.
Free Trial!
Don't forget that Turbonomic has a 30 day trial of their software that can be obtained here: https://turbonomic.com/downloads/turbonomic-30-day-trial/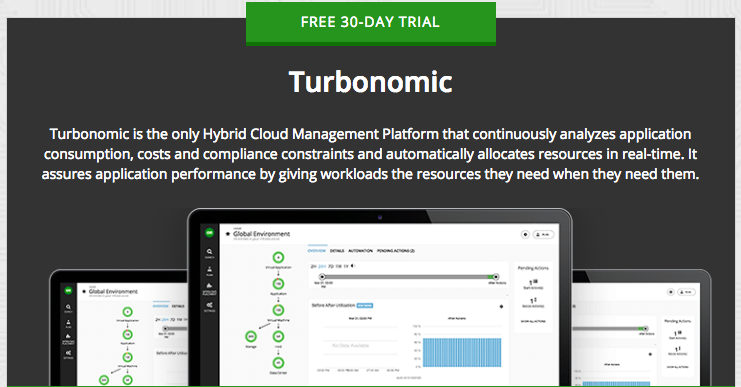 Nice work once again from an industry leader in cloud & virtualization infrastructure management! Be sure to check out the Turbonomic Blog (https://turbonomic.com/blog/) for  updates on the software as well as notes from industry leading tech conferences.
Disclaimer: Turbonomic is a Sponsor of this blog but does not pay me to write posts about them or their products. This post was not endorsed, fact checked, or approved by Turbonomic prior to posting.