vCloud Air OnDemand: Less is More
vCloud Air: Use Less Resources. Go Further.
The word Cloud comes with many great advancements in technology as well as many confusions. Cloud pricing is one of those confusions, trust me, it gets the best of us at times. The conversation over Cloud pricing runs rampant all around the IT stratosphere and most of the time it can lack what your money actually gets you. A service might be less expensive than another, but if your project needed more resources to meet workload demands you could end up paying more just to get those extra resources. Ouch!
vCloud Air OnDemand is not about that life
VMware's vCloud Air OnDemand comes with no up front resource size, capacity or cost commitments which can be part of the 'deal' with other cloud services. This allows you the freedom build your cloud exactly as you require without the need to double up on resources to meet your needs. Services like Microsoft's Azure & AWS from Amazon, use preconfigured compute instances that can be too little or way to much with regards to your resource requirements. vCloud Air OnDemand doesn't use that outline, you get to build the virtual machines as you see fit. Whether that is adjusting CPU, memory, or storage, you can quickly make your changes based on requirements and or budget without adding more instances to meet your needs. This model also helps with storage sizing for your cloud systems.
In July 2014, Principled Technologies performed benchmark testing of I/O performance between vCloud Air and AWS. Using 4 different virtual machine sizes & 4 different block sizes, they found that the I/O performance of vCloud Air was dramatically greater than that of the same workloads built within AWS. Principled Technologies concluded that performance difference was three times better than that of AWS. Whoa.
This is the underlying information that we tend to miss when we first see Cloud Services. We seem to gravitate towards cost almost immediately as the most attractive feature. I know I have in the past. Do your homework, ask questions, test, try, and ask some more. That way you can make the best educated choices for you and your company when choosing a Cloud Service. Don't get caught up in hidden fees or false promises!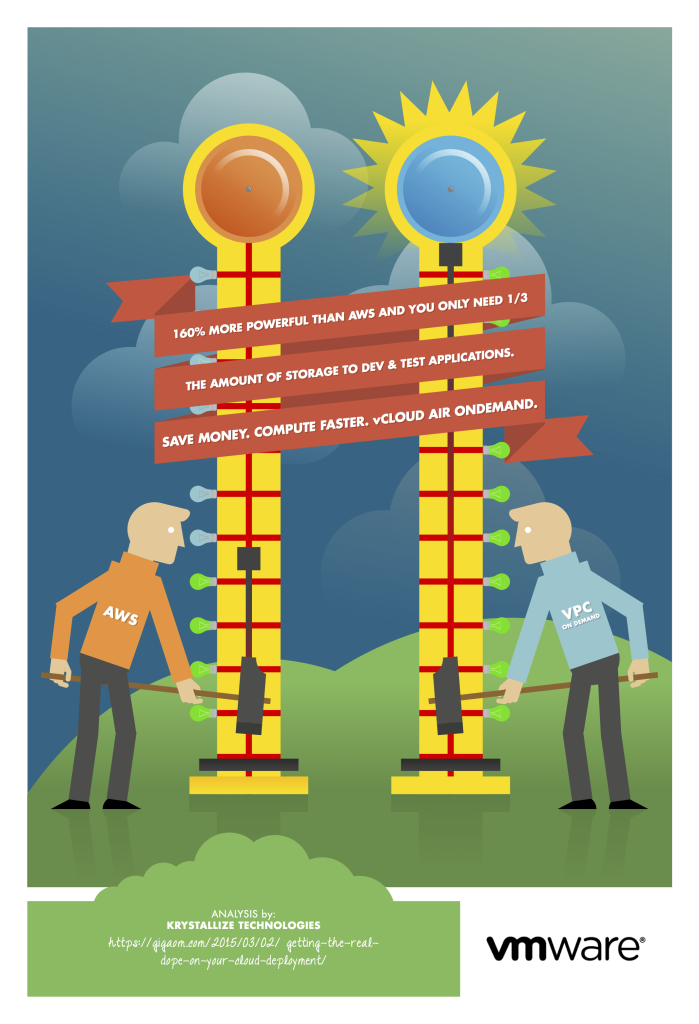 Interested? Why not give VMware's vCloud Air OnDemand a try? VMware will even give you a $300 credit just for test driving their amazing cloud service. Help turn your companies capital expenses into variable operating, pay-as-you-go expenses. Have a look at vCloud Air here, and sign up today!