VeeamON 2015 Final Thoughts
VeeamON 2015: My Experience
The second annual Data Center Availability conference in Las Vegas where Veeam brings together technology partners from around the world to experience how their software helps keep data protected and always available. Here is how Veeam explains it; "VeeamON 2015 is a one-of-a-kind experience filled with inspiration, education and networking opportunities enabling you to achieve the Always-ON Business™."

As I stated previously in another blog this week, I attend this year's conference as part of the media where I was able to blog about the Veeam availability suite. From the moment I walked off the plane at McCarran airport to the moment now where I am getting ready to fly home tomorrow afternoon, I have been treated like a first class citizen. Veeam does everything about conferences the right way. Whether that be the transportation to and from the airport or the hotel accommodations or the conference food, they do it 100% exactly the way it should be done.
The Conference
The conference itself is much smaller than what most of my friends or colleagues experience visiting the likes of VMworld or EMC World, but that's what makes this one great and unique. This year's conference attracted approximately 1800 technological minds and members of the media.
As a customer of Veeam, I can firsthand tell you that I didn't have to come to this conference to love and appreciate what their software does for me on a day-to-day basis. I will say that coming to this conference has educated me far more on their product offerings and the functionality of the software way more than I could ever learn by reading the manual. Some of the best sessions I attended where those geared towards the technical deep dive side of how the product works and also those sessions that show you the best practices or tips and tricks to make the product be better then I think it already is. Veeam also offered training classes during the conference to help technologists prepare for the VMCE Certifications on their software suites.
What I've learned this week is Veeam is not here to take over the world or to grow a conference so large that it has to fit in seven buildings. They are here because of community and partnership. Yes of course they would like to make money on their product and at their conference but they fully understand that partnering with other companies like HP, Cisco, Microsoft, VMware, and NetApp they can then provide an amazing offering or complement to each of those partners ecosystems. Veeam knows and fully understands that their product offerings work best when partnered or offered to others such as Managed Service Partners (MSP) and Value Added Resellers (VARs) who sell and install the product.
Veeam officially announced version 9 of their Availability Suite that comes with plenty of new features. Features to help customers & partners do more with the software and in turn keep their data centers highly available and always on. Lab Warz was also a great time. This is where you get to compete against your peers to solve scenarios using Veeam's software products for a chance to win $10,000 for the best times!
Next Up
As I pack up my things and get ready to head back to Houston tomorrow I have to say that I am fully pleased with the conference from start to finish. I am also very impressed with the level of hospitality given by every single employee of Veeam that I have had the pleasure of speaking with. This is a great company with an amazingly brilliant future in our industry.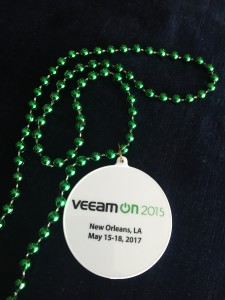 Veeam will be holding their next VeeamON just about 18 months out but this time in New Orleans! Save the Date: May 15-18, 2017.
Again if you are interested in learning more about Veeam's Availability Suite, have a look here: http://go.veeam.com/v9