VMworld 2017: A Spouse's Perspective
If you know me as "Nigel's Wife," it means that we are acquainted on the IT side of life.  You also know then, that I am going to mention Spousetivities somewhere in our conversation. Spousetivities is the amazing service by provided by Crystal Lowe that allows the spouses of IT professionals to travel to conferences around the globe and be able to connect with other IT spouses in safe, well organized activities. I previously had attended my first Spousetivities event in San Fransisco (2015) for VMworld.  That trip I attended with a great friend, Amy Major.  We had a fabulous time and I was hooked.

10 Years of Spousetivities
Spousetivities celebrated ten years this year!  Ten years ago, it dawned on the ever awesome Crystal Lowe that gathering the spouses of IT professionals at conferences would be a great idea and Spousetivities was born.  While that sounds easy, let me tell you that Crystal works her tail off to pull off these events.  In 2017, Crystal will have executed seven different events across the globe in an attempt to allow the IT spouses of the world to create their own friendships and connections.  Personally, I look forward to attending Spousetivities in another country sometime in the future.  Crystal does all of the planning, paperwork, advertising, and rustling up of sponsors… and she does all of this simply because she loves it.  She doesn't draw a salary, she uses volunteers only at the actual events, and she does this year after year because she sees the value in in these friendships that have blossomed.  She doesn't sleep, she hardly sits, simply because there are hundreds of us that look forward to getting together.  Needless to say, the founder of Spousetivities is a super hero in my book.
This year, I attended VMworld Las Vegas in August.  We are from Houston. We left as Hurricane Harvey was rolling in.  We had five children and three dogs hunkered down in our house.  Now, the majority of our children are older. Adults themselves with households of their own, except for our 11 year old.  So all was in good hands, it was just hard not to worry.  We spent the first three days of our trip, constantly connected to our kids at home via FaceTime, text, or even watching the security cameras at our house.  It was hard to relax, to say the least.  There was one day I was waiting to board the bus to an activity, Crystal approached me and asked how it was going at home.  Tears welled up, lack of sleep was getting to me, and I spilled my guts to this poor lady with a hundred other things on her mind. Crystal took a moment to really be present with me and remind me that my children were fine, capable, safe kids.  She reminded me that I needed to take care of myself too. THIS is the true heart and soul of Spousetivities. The connections we get to make with other spouses in the IT Industry. We become "
Heather
" as opposed to "Nigel's Wife." We get to be ourselves.  We get to have a lot of fun, too
Let's Get Started
Spousetivities kicks off with a beautiful breakfast on the first morning of the conference. This is the time when we get to see friends from previous conferences or make new connections.  My first Spousetivities I attended with a friend. This year, I was on my own.  I am a bit of an introvert in situations where I don't know anyone, so the breakfast can be overwhelming if you aren't walking in with someone you already know.  This year, I swallowed my natural anxious reaction and found a table to join.  A bit awkward as you can imagine, but it worked out and by the end of breakfast, new friends had been made.  Breakfast always has exciting prizes provided by generous sponsors.  I never win anything, and this year landed a pair of VR goggles!  My 11 year old was happy as a clam when I came home with those!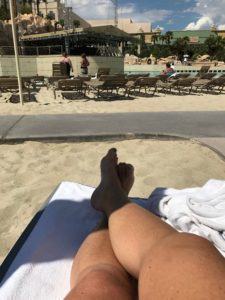 The rest of the week is FILLED to the brim with a variety of activities.  Some spouses will attend one or two days of events. This year, I participated in one event each day! Since I was traveling solo while Nigel was attending VMworld, and I have been to Vegas more times then I can count, there was no reason for me to NOT participate.  Two days I spent by the pool at a cabana at the Mandalay Bay pools. Let me just insert here… I am a mom of four kids.  I have one young one in school, one that is planning her wedding, and two working or in college. Life is usually controlled chaos in our house.  Two days laying around at the pool…. absolute sheer heaven.  Seriously, it may seem like a waste while there is "so much to do" in Vegas, but if cabana days were offered daily, I probably would have done that the entire time.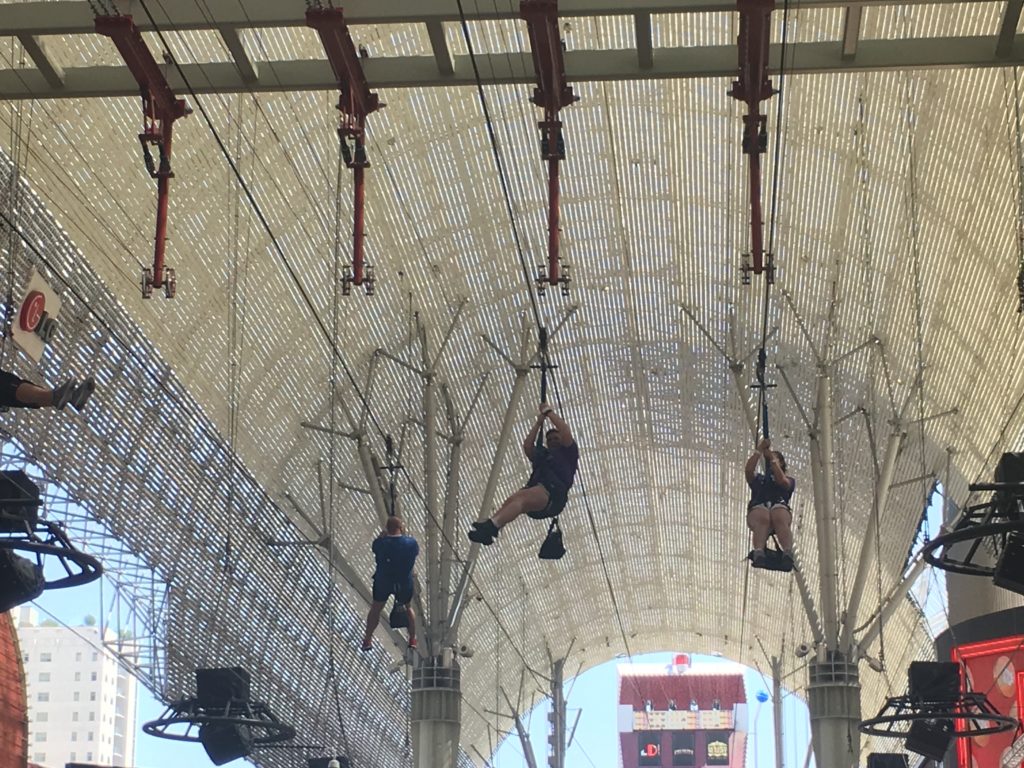 My husband actually took some time to attend a Spousetivity with me this year, which was super fun.  
On Wednesday
, he took some time away from VMworld to join our group for zip lining down Fremont Street.  What a kick in the pants! While we wanted to ride the higher zip line offered, it wasn't available for us.  No biggie, our coordinator switched us to the lower zip-line and off we went!!  That was then followed up with a food tour in Summerlin with
Chef Philip Dell
.  Amazing!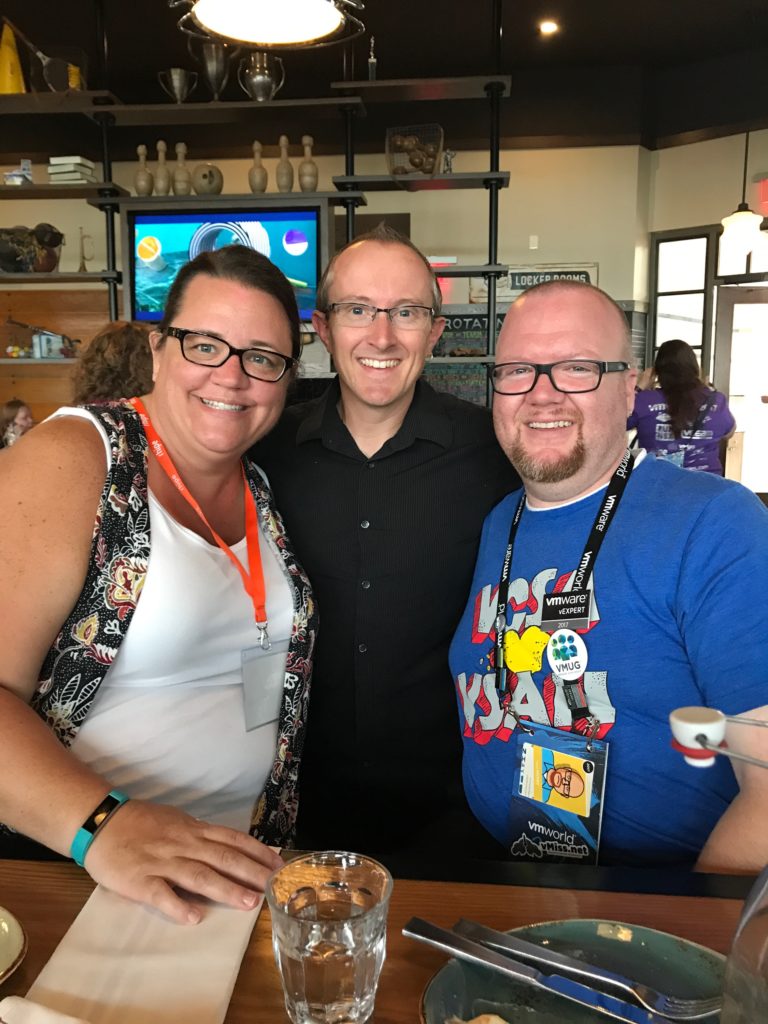 Listen, I could talk all day about specific activites, and the schedule that were offered.  Everything from spa appointments, horseback riding, helicopter tours, etc.  Basically, Crystal does a fabulous job of planning things that are different then what you may do if you just were visiting a city as a tourist and allowing for different budgets.  While Spousetivites is sponsored by some awesome IT companies, there is still a cost associated with each event. Crystal does her very best to keep costs affordable for everyone, and for that we appreciate her!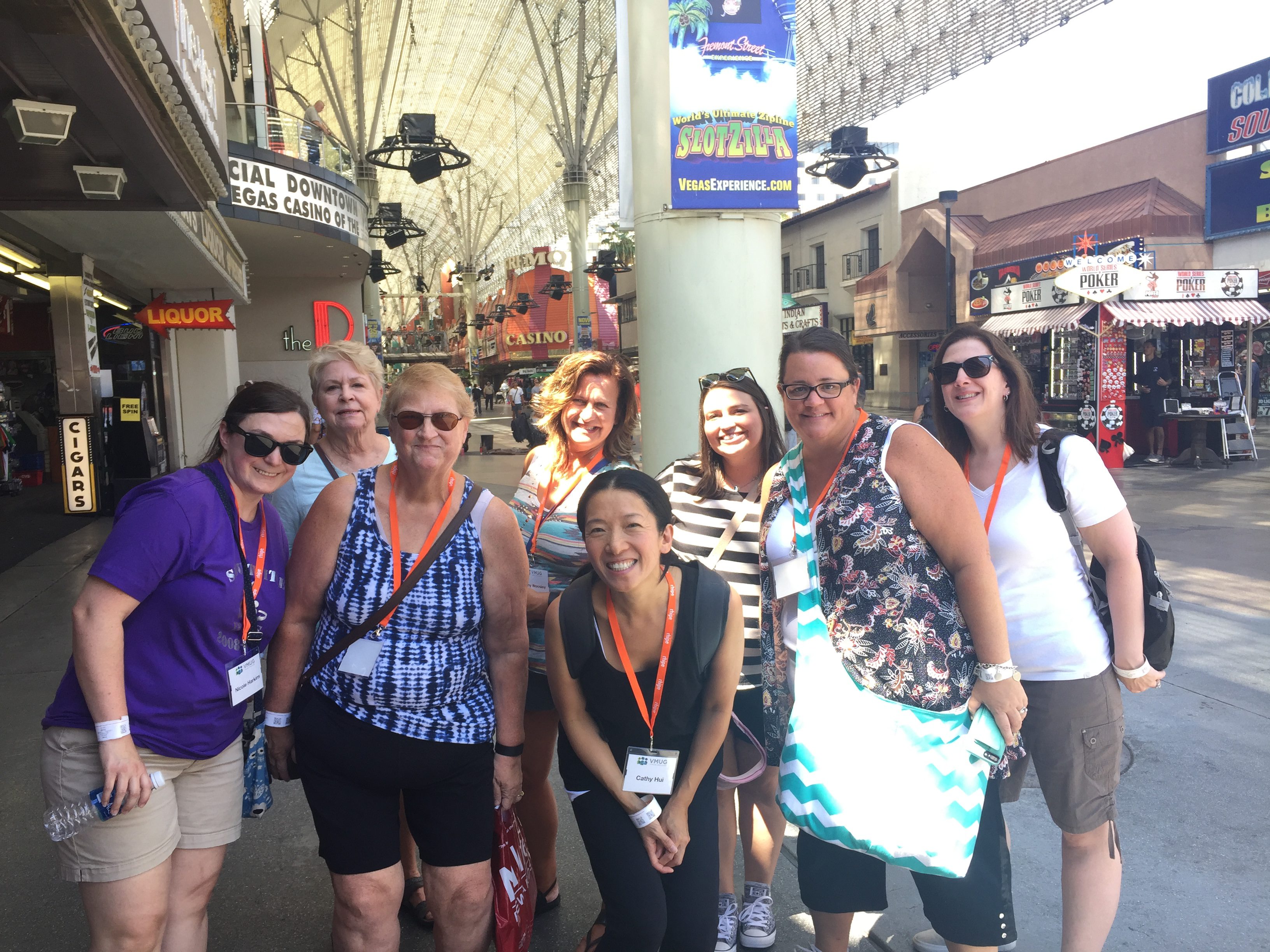 Why is Spousetivities Important to Me
While I could blather on all day about the great time Spousetivities is, let me tell you WHY Spousetivities rocks:
It allows me to travel with my spouse for once.  This year, we have so much going on in our family.  A recently built house, job changes, a wedding to plan… the list goes on and on.  Being able to travel with Nigel to VMworld gives us the opportunity to relax and spend some time getting re-focused together.  While we have separate activities to attend throughout the day, we made plans each afternoon or evening to have dinner, or just relax together.  As a conference attendee, it is easy to get swept up into all day at the conference and then the long list of after parties and gatherings that are offered.  Nigel and I spend time prior to the conference putting together a loose calendar for the week so we can really focus on the times that we will be together, and make the most of those moments.
Spousetivities gives me the opportunity to start making connections of my own.  It helps me put names with faces.  Nigel talks about his connections all the time.  "I talked to Sean today and he sends his regards."  In my mind, I am like "who the hell is Sean?"  Traveling to VMworld allows me to put a face to those people that my husband spends A LOT of time with.  I actually met someone who was excited to meet ME this year.  I had done a podcast about work/life balance with Nigel several years ago and while at an evening event of VMworld, someone approached me with "Oh, you are Nigel's wife! You did that podcast that my wife and I listened to!  Let me tell you how that helped us." And we were off an running into a conversation.  It was fabulous.  The VMware community is a large, but supportive one.  I love meeting all of the people who support my husbands career and learning about what they do and how they juggle life.
Spousetivities allows me to see a city in a way that I never have before.  Again, been to Vegas so many times, but this year I was able to see some of the less common things via the Strip Scavenger Hunt we had on the first day.  I never knew that outside of Vegas sat the small community of Summerlin that is a foodies mecca!
Spousetivities is the epitome of work/life balance.  Let's face it… you know that having a spouse working in IT isn't all about flowers and unicorns.  There are cancelled dinner plans because a server went down. There are conference calls that run long and your kids are chomping at the bit for dad to get off the phone and help with some project. There are unplanned trips to the airport because your spouse is suddenly needed onsite by a client.  Working in IT is chaotic itself. Add in a family, and things can get crazy pretty quick.  Spousetivities allows for a chance for work and life.  It made my heart so happy to see the spouses step away from conference activities for a moment and come out and drop a quick kiss on their wife who was sitting by the pool.  You could see couples taking a needed deep breath and relax for just a moment.
I get it.  I am a mom.  It's hard to take even a few days to travel with Nigel.  There are schedules to coordinate, a daughter that has some additional needs in life that have to be managed while we are away, and budgets to consider.  It's not easy.  I didn't attend VMworld and Spousetivities in 2016, because we just couldn't pull it off.  Not even for a couple of days.  The week of VMworld in 2016 was the same week my youngest started school.  So, I had to skip.  I hope to go next year, but life always has a way of making plans change.  When I do get to attend, I walk away feeling rejuvenated, blessed, and refocused on my marriage.
Make It a Success!
If you do attend a Spousetivities event at any IT conference, here is my quick list of how to make it a successful, stress free time:
Really READ the event offerings and ask questions prior to purchasing.  If you aren't willing or able to walk for long periods of time, really evaluate the events being offered.  If you are unsure of the amount of walking or terrain… reach out to Crystal. She will be able to tell you if it's a good fit or not.
Sign up and purchase your Spousetivities activities as early as possible.  Just like the activities/events offered to your spouse at VMworld, spots fill up quickly!!
You HAVE TO CHECK YOUR EMAIL while at the conference.  Occasionally, Spousetivities events have to be changed slightly. Crystal is fabulous about sending out emails to let you know if a time or meeting location has changed.  If you don't check your email… well, you are going to miss out.
If you have questions, ASK!! There is ZERO reason for you to be left wondering about anything. Crystal is a master communicator, but also has a team of volunteers assisting her that can answer your questions.  There is always reaching out to other Spousetivities participants via Twitter (which is hugely active during the conference).
Thank the sponsors.  If it wasn't for event sponsors, some of us would never be able to afford all the things Spousetivities offers at a discounted rate.  In fact we NEED MORE sponsors.  The more we highlight these sponsors and thank them for including us as a valuable part of the community, they will continue to allow Crystal to plan these rock star gatherings for us!  If you want cheaper events, hit up your spouse's company to sponsor Spousetivities.  The more dollars in Crystal's hands, the more she can offer at better rates.  Also, get the word out about Spousetivities.  Every conference attendee I run into, I ask if they are aware of Spousetivities and if they brought their spouse to the conference.  The more people signing up equals bigger discounts for activities.
Thank Crystal Lowe. Seriously, that lady deserves a medal. Seven events, hundreds of people, sponsors, vendors and doing it simply because she loves it… yep, total rockstar.
I would be absolutely remiss if I did not mention the recent tragedy in Las Vegas.  Being there just a few weeks prior and having the time of my life, really made this particular incident hit close to my heart.  Please continue to pray for all involved.  We need to show up to VMworld next year unafraid and show the people of Vegas that we care and continue to support them.
Hoping to see you at a conference in the future! Don't miss out on the Spousetivities fun!