So You Wanna Go To VMworld?
Well good news. VMTurbo is at is again with some ticket giveaway love.
I know the drill, you want to attend VMworld in Las Vegas this year, but your boss won't pay for the conference passes, right?? I have personally been there my friends and it can be frustrating but its not too hard to win you way there. Try your luck and win two full conference passes to VMworld 2016 on VMTurbo's behalf!
Where Do I Sign Up?
That's even easier. Jump on over to VMTurbo's VMworld Ticket Giveaway page and sing up! Answer a few questions such as your name, email, size of your environment, and you're on your way to the next drawing.
(You can also click the image below to be taken to the sign up page).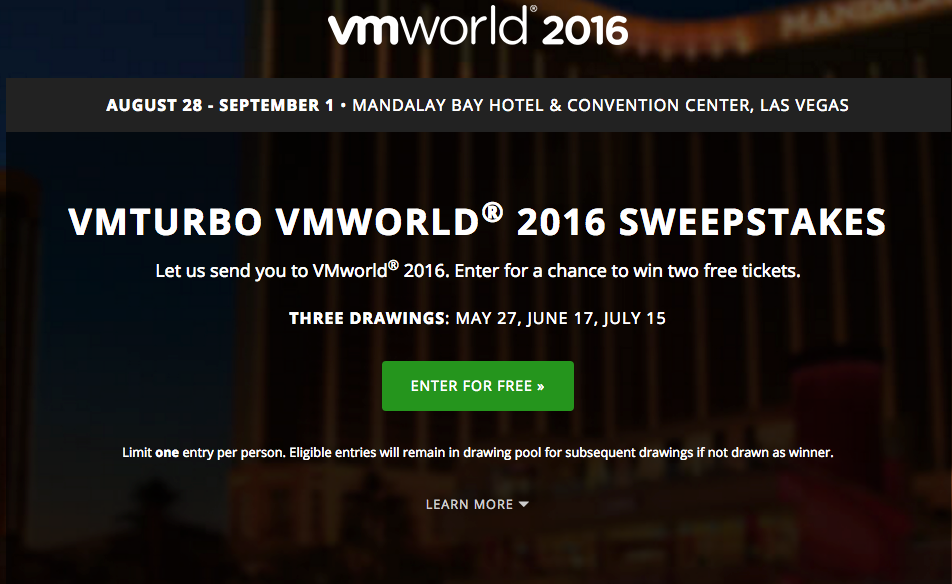 When Will I Find Out If I Have Won?
VMTurbo will have 3 drawings for 3 winners. The drawing dates are: May 27, 2016 (Completed), June 17, 2016, and July 15, 2016.
Legal Stuff:
Sweepstakes are open to everyone 18 years of age or older at the time of entry. Winners must be present in Las Vegas during VMworld® in order to claim passes. Sweepstakes starts May 4, 2016 and ends on July 15, 2016 at 11:59PM EST. Winners will be announced on the same day of each drawing and we will notify each winners by email.
---
That's it! Now get on over to VMTurbo's site now to sign up and I will see you in Vegas. When you get there, be sure to hunt me down. I am usually in the Hang Space most of the days so do not be shy, stop me and say hello, or grab a quick pic for social media!