Oh, the Places You'll Go!
Let's Face Some Reality Here
…Being married to an IT professional isn't always sunshine and unicorn farts. There are late nights, dinners interrupted because of the "on call phone" ringing, and planning vacations centers around business needs first. Now, I am not saying that being married to the IT guy is harder then other professions, I am just stating that it has its downfalls. Technology is EVERYWHERE and a major focal point in our lives, and some of our spouses can't get away from it, even if they tried. I have a photo of one of our kids whining to daddy because her TV wouldn't connect (see below!).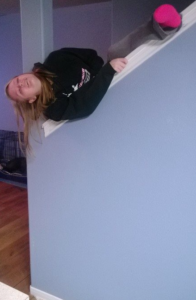 I have listened to an endless number of phone calls that start with, "Hey you work in IT, can you help me?" I even used to work from home and had no problems summoning my live-in IT guru when I was unable to connect, my printer didn't work, or when I couldn't find batteries for my mouse.
I met Nigel because of IT. Our story started with a Help Desk ticket and some hardware that refused to work. For us, the IT world is life. We live and breath it daily. There was a time that IT could have easily ended our marriage because some jobs just plain suck the life out of you. At that point, we had an option, throw away everything marriage and Nigel's career into the garbage, or focus and learn to set goals that were achievable. Obviously, we selected the latter.
What's Next?
Nigel set a goal several years ago to work at, what he said was "the mothership." As a spouse, I did everything I could to support that goal. Nigel needs time to study for a certification? I will make sure the house is quiet so he can focus. Nigel needs to attend a conference to learn more and build rapport with the IT community? I will handle everything on the home front so he can focus on filling his mind with education and making connections. Or even better, I will travel with him and extend my own circle! Getting to the goal was not easy. Sure, there were some awesome highlights along the way, but there were some struggles as well. But, Nigel never lost sight of the goal.
Today, the goal was finally obtained. Allow me to announce that Nigel has accepted a position with VMware. This is the "mothership." This was his ultimate goal. For those not well versed in IT lingo, VMware is "a global leader in cloud infrastructure & digital workspace technology." It a product/service that Nigel has spent many years learning about, educating others about, and basically surrounding himself with for many years. Today, he finally joined the team as a Technical Marketing Engineer. I can't be more proud of him. Please don't ask me to explain Nigel's new title. I couldn't even begin to figure out the words to use to make you understand. I can say, it involves travel, talking to people, and using his passion for VMware to help others in the IT world. For those of you that know Nigel, it's a perfect fit.
FOCUS, PLAN, EXECUTE
Yes, this is going to change the Hickey household again. Nigel will be on the road about 70% this next year. At the same time, we are in the midst of planning a wedding for our firstborn daughter. Our oldest son will be moving out of the house this year. Our youngest will be moving on to junior high. There is a lot going on. BUT! We are looking forward to the challenge and new goals that this challenge will bring.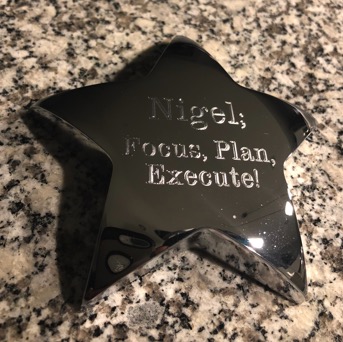 There are three words all over Nigel's office… FOCUS, PLAN, EXECUTE. Those three words have been the driving force behind everything thing Nigel does to obtain his goals. It is my absolute pleasure to have been apart of this journey, even that crappy parts.
Congrats Nigel! You did it. I am so proud of you!